FleetRadar™
The 360-degree fleet management solution
Login to FleetRadar™
Create data dashboards and reports
View compliance details
Optimize service planning
TIP's new fleet management tool, FleetRadar, is here to support our customers improving efficiency and managing their entire fleet at one glance. Due to its comprehensive visibility and the full access to the assets, data and compliance documents, daily planning processes can be optimized.
Are you one of them?
FleetRadar™
Thanks to its intuitive design and smart functionalities, with FleetRadar™ we deliver a smart, effective and simple to use solution supporting lean and transparent fleet management. FleetRadar™ provides a 360-degree overview of all units on rent, lease or maintained by TIP via Contracted Maintenance and Non-Contracted Maintenance at the touch of a button.
FleetRadar - At a glance
Available 24/7
Supports digitization of business processes
Enables fleet efficiency improvements
Provides visibility on all units on rent or lease and those maintained by TIP via FleetCare or PAYGO
See status, performance, technical, maintenance and compliance information
Drill down into vehicle-specific data
Customizable data dashboards and reports, for all users
Intuitive design for enhanced customer experience
Download and securely share data and reports
Accessible across multiple devices, PC/Mac/iOS/Android
Available in 13 languages
All your data in one dashboard
All insights on current status, technical data such as dimensions, weights or bogie, maintenance schedules and compliance documentation are aggregated and delivered into a powerful dashboard, individually customizable within the portal. Each individual vehicle can be accessed by licence plate, TIP number or chassis number, providing detailed profiles of all assets, including their maintenance history and performance data.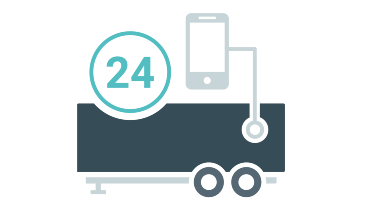 24/7 access
The portal can be accessed 24/7 across multiple devices, PC or Mac, as well as Android and iOS mobile devices in 13 languages.
As an expert with the ability to anticipate our customers' challenges in a disrupting industry, we meet the constantly changing market conditions with innovative services. FleetRadar is the enabler of new services in the digital era and one step on our path towards completely connecting our fleet and our customers' transportation.
I have units on lease as well as on rent – will both types be included?
Yes, and more. FleetRadar™ displays units on rent and lease, in addition to units maintained by TIP via Contracted Maintenance and Non-Contracted Maintenance.
What information can be viewed via the portal?
FleetRadar™ clusters information into three modules: two fleet modules and one compliance modules. 'Fleet Profile' will allow you to view, share and download data about your entire TIP fleet. This data spans vehicle status, performance and technical data, maintenance schedules and compliance documentation. Meanwhile, the 'On hire' module will allow you to see the same data but for just the hired TIP units.
At a unit level, it's possible to retrieve detailed information such as technical specifications, e.g. dimensions, weights, bogie, manufacturer or model year and check-in/check-out information.
In the compliance modules, users can see the percentage of their fleet in compliance, details of units where compliance is due or overdue, as well as download any compliance documentation from the last 15 months, such as MOT or service letters. The compliance planner is a key feature of the portal. It provides a 12-month view of compliance requirements that can be output to Outlook Calendar or iCal. Alternatively, it can be downloaded as a printable wall chart.
What dashboards can be created in the portal and how can I use them?
The FleetRadar™ interface is customizable on an individual level, allowing vast flexibility to display different information in form of specific data sets from the available modules.
'Widgets' allow you to determine how data is reviewed, e.g. graphs, charts, numbers, in addition to providing individual illustration choices. These widgets can then be grouped into custom dashboards to allow each individual user their own personalized view. For example, MOT technicians can choose to only view MOT data, while fleet managers can view a broader data set.
FleetRadar™ allows collaborative functionality, meaning single widgets and dashboards can be shared between users within their company but also with TIP staff. The portal offers 'push notifications' enabling users to be notified in real-time, via the portal or email, if a widget or dashboard is shared with them. You can personalize these notification settings.
Data can also be exported in different formats (i.e. Excel, PDF, JPEG, PNG) and shared via email or existing customer tools.
Who can make use of the portal? How many people can have access?
FleetRadar™ can be made accessible to all those requiring access to fleet data, including but not restricted to fleet managers, maintenance technicians, operations managers and business owners.
There is no limit to the number of users within an organization. You will be empowered with administration functions via nominated 'super users', which gives you the autonomy to create new users. The data visible to each user can be customized via permission settings.
What devices can be used to access the portal?
FleetRadar™ is a Progressive Web App (PWA), so it uses state-of-the-art web capabilities to deliver a convenient app-like experience to users, whether it's accessed via the app or a browser. It can be used on multiple devices including PC or Mac via app or browser, as well as Android and iOS smartphones or tablets. The app requires Windows 10 or iOS 12 or later.
FleetRadar™ also has offline cache visibility, allowing access to previously accessed data and documents when offline.
How will TIP use information stored in the portal?
FleetRadar™ is a tool that provides customers access to fleet data and documentation with viewing via customizable widgets and dashboards.
It does not store any personal information about users in the portal.
TIP will monitor user access and usage for development and continuous improvement.