Trailer leasing
Leasing solutions for your longer-term needs
| | |
| --- | --- |
| Benefit from long-term fixed monthly competitive rates | You specify term to suit your operating requirements |
| Choose brand-new or access TIP's existing fleet | You decide what to do at the end of term |
| Ownership risks such as disposal remain with TIP | Maintenance & breakdown services included |
| Avoids capital investment |   |
If you are looking to hire trailers for 12 months or more and prefer not to have the risks associated with ownership or would like to acquire an asset over time without paying for it upfront, then our range of long-term leasing products could be for your business.
In fact TIP offers a broad range of innovative leasing and finance solutions, not only for trailers but for all transportation equipment to provide a one-stop solution for all of your asset financing requirements.
Our solutions enable your fleet to be upgraded without you making the necessary capital investment upfront, allowing you to invest elsewhere if required. We will work with you to find the best possible structure of any financing arrangement in order to suit your business needs.
TIP's leasing and finance solutions allow you to enjoy the benefits of dealing with a specialist in the trailer industry who can help with all aspects of your requirement, from sourcing and specifying the asset, to maintaining and disposing of it at the end of the agreement.
TIP has provided structured solutions for the top 10 transport and logistics companies in Europe.
Click here to read our Knowledge Article on how leasing provides an agile response to acquiring new assets.
Operational lease
With our Operating Lease product, we can help specify trailers to meet your requirements, purchase them on your behalf if needed and lease them to you at an agreeable fixed monthly rate over the term that you need. If we are purchasing the trailers from new, the specification, including your own livery, can be exactly to your requirements.
At the end of the term, you can choose to extend the lease, purchase the assets or return them. You have full use of the trailers during the lease period and TIP will take the risks associated with ownership of valuable assets. All whilst avoiding the need for capital investment.
Finance lease
With our Finance Lease product, you can acquire trailers over time without having to pay for them upfront.
Sale and leaseback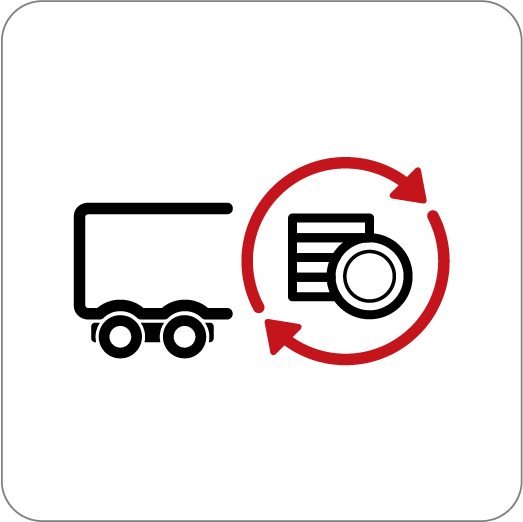 With our Sale & Leaseback product, we can even purchase trailers that you already own and lease them back to you at a fixed monthly rate in order to free-up your capital investment. We will offer you a purchase price at a fair market value and lease to you at a competitive fixed monthly rate.
Six reasons to lease with TIP
Financially attractive
When you lease with TIP you have no residual value risk, and for tax purposes you are regarded as a lessee.
Dedicated Customer Service Delivery
With our world class customer service teams across Europe and North-America, you can rest assured that all of our equipment is maintained to the highest standards, ensuring total operating efficiency throughout our fleet.
A risk-free journey
With our damage protection service, your leased equipment is protected against additional costs resulting from damage, fire and even loss of equipment. In this way, you can focus on the transport and do not have to worry about any 'what if's'. With equipment from TIP, you know you have the best assets, the best service and the best coverage in case of an incident.
A broad network to benefit from
We have operations in 17 countries in Europe and Canada and have a large network of over 6,000 vendors located throughout these countries. You are assured of convenience and flexibility as we have the capabilities to serve you wherever you need us. Furthermore, our business scale allows us to provide you with competitive offerings in the market.
Breadth and depth of offering
We have international reach and a product and service scale that allows us to provide you with flexible solutions whenever and wherever you need it. We operate with a preventative maintenance policy to align with operational requirements. With our Roadside Assistance service, you can rely on us to provide 24/7 full support at any location you require assistance.
Equipment to fit your demands
At TIP, you will be talking to experts who can help you find a solution that fits your needs. Whether you need a reefer, a curtainsider, a tilt or any type of specialized equipment, we will be able to help you and provide exactly what you need.
Click here to see the different types of trailer that are available for rental and leasing in the UK & Ireland.
Could you send us additional information about a specific type of equipment?
Most of the information can be found on our equipment page. If you need additional information, please let us know and we will contact you as soon as possible.                     
What is lease?
If you want to rent a trailer, tanker or other type of equipment for more than 12 months, it will be considered as lease.
If you wish to rent for less than 12 months, please see our rental options.
Are all the equipment types on your website are available for leasing in my country?
Yes, all assets that are listed under the 'Equipment' section are available for leasing.
What are the leasing conditions?
We have standard terms & conditions, they are integral part of a contract and added with every new contract. We can also send them on request.
What assets types do you have in your fleet?
We have an extensive fleet of trailers, tankers and other assets. Most of our equipment is displayed here. If you submit a quote, we will assist you with your request. In case you need very specific equipment, possibly we will be able to buy this equipment new and lease it to you. Please contact us for more information.
What are the conditions for returning leased equipment?
Please check our Fair Wear & Tear Conditions.
Could you provide an overview of the services that are included in the leasing agreement?
For all leases with TIP, multiple service options are available. If you choose a full service, this includes: servicing, tyre replacement, axle and brake parts replacement, refrigeration unit parts replacement, other parts replacement and roadside assistance.
Details for all maintenance elements can be found in the standard terms and conditions within your TIP contract, or alternatively, can be sent to you on request.
How long does it take to formalise a leasing agreement?
If you do not have an account in our system yet, it will take couple of steps to complete your profile. Start the process by submitting your quote.
In what countries do you provide services?
Please visit 'Our locations' to find our service points near your location.
Trailer rental
If you are looking to hire trailers for a period of less than one year, you can choose our Short-Term Rental product and select trailers to suit your needs from our fleet of thousands.
Maintenance and repair
TIP offers a range of trailer maintenance and repair services to minimise your operational costs, maximise your operational availability and keep you compliant.
Roadside assistance
TIP offers an extensive breakdown recovery service for your trailers throughout the UK and Ireland and beyond. Our dedicated and certified technicians are able to deliver roadside assistance to get you back on the road as soon as possible and the service is available 365/24/7.